Team Skibladezzz!
SB Saucerboy Pro Model X-treme
McConkey x J Collab
J Says Best For: Getting X-treme / Hollywood lines / Blower pow / GNAR points
Waist Width: 100mm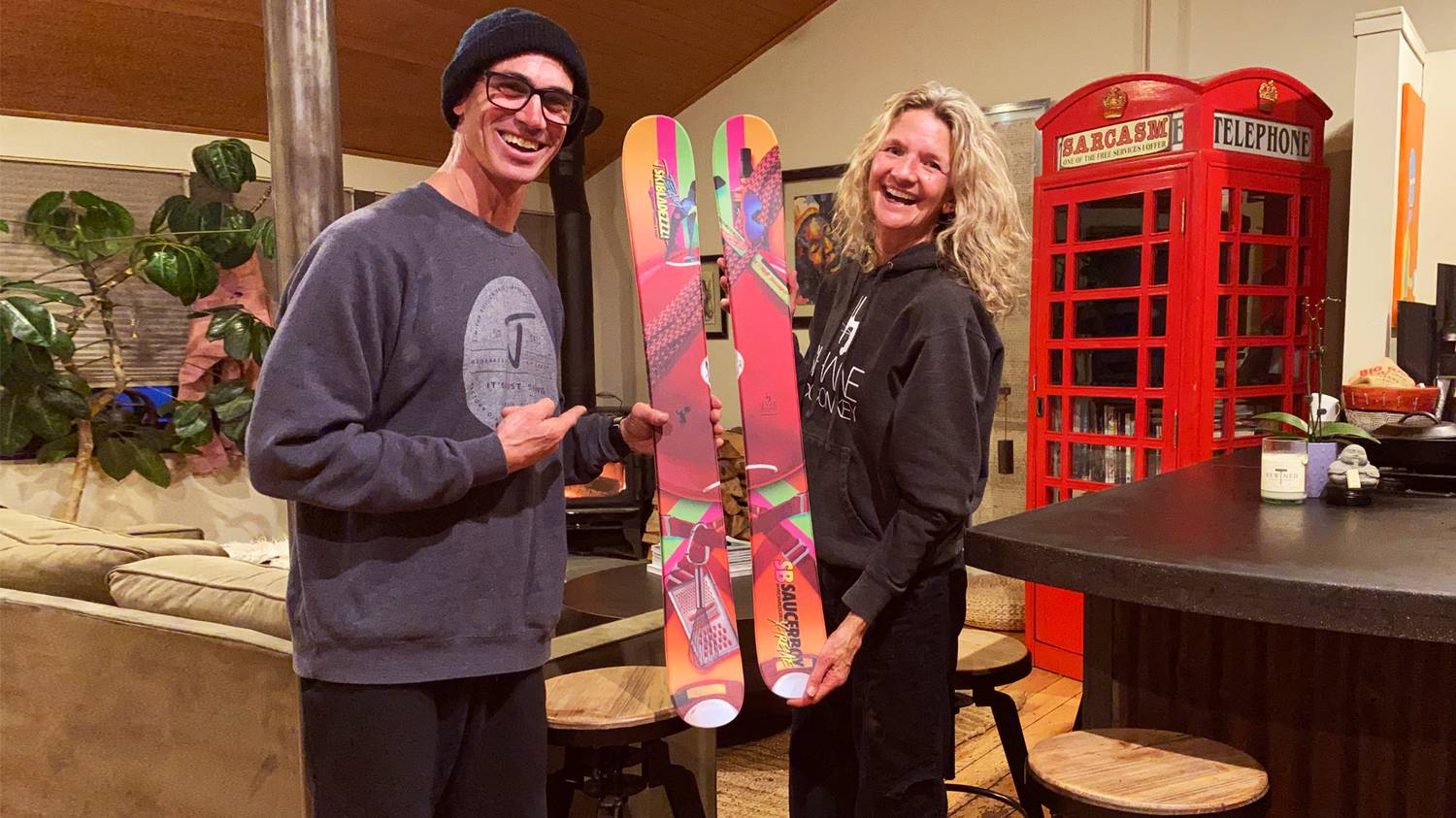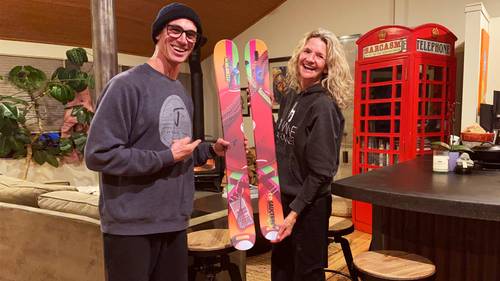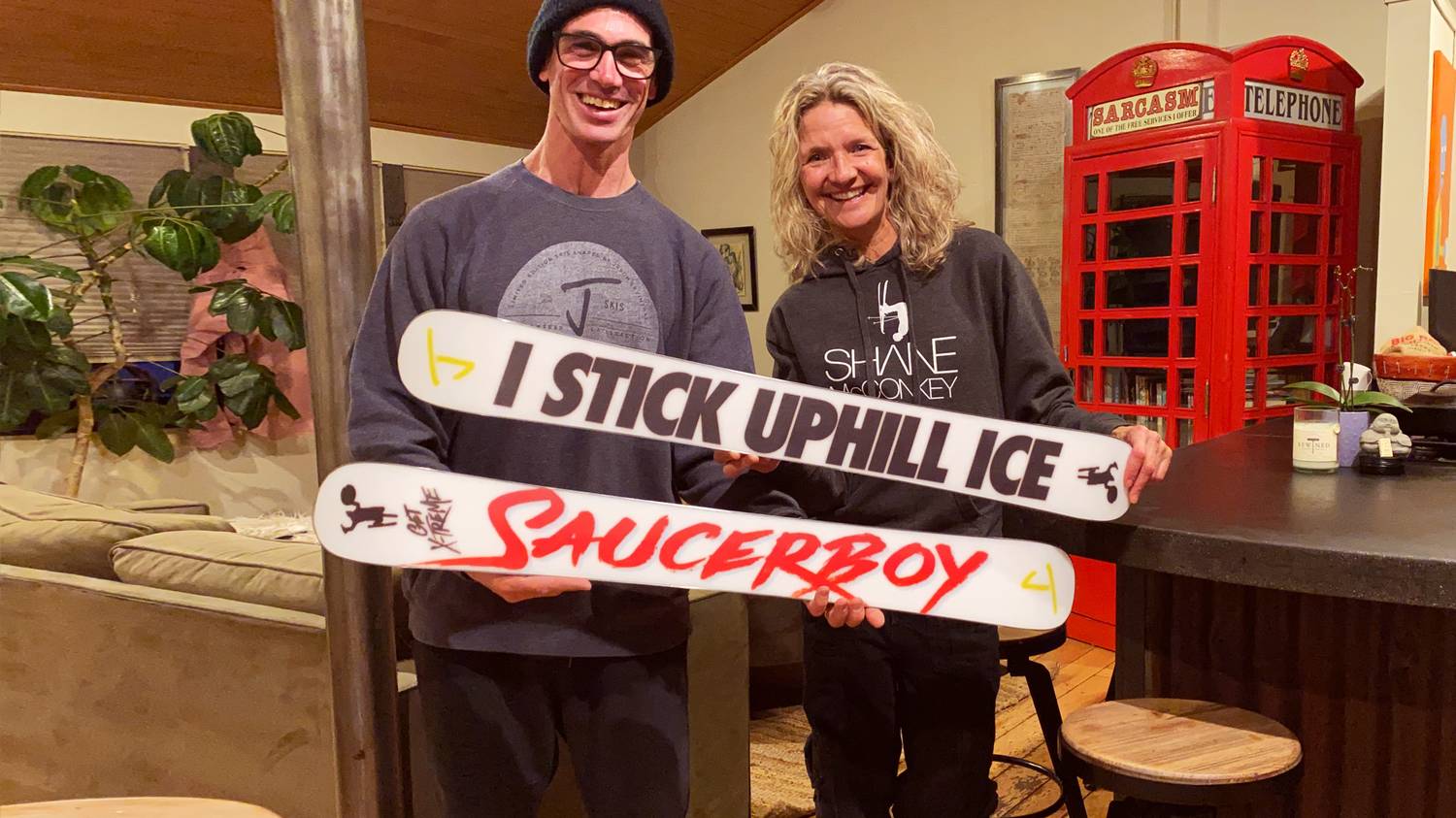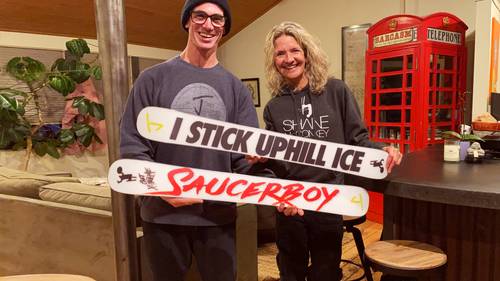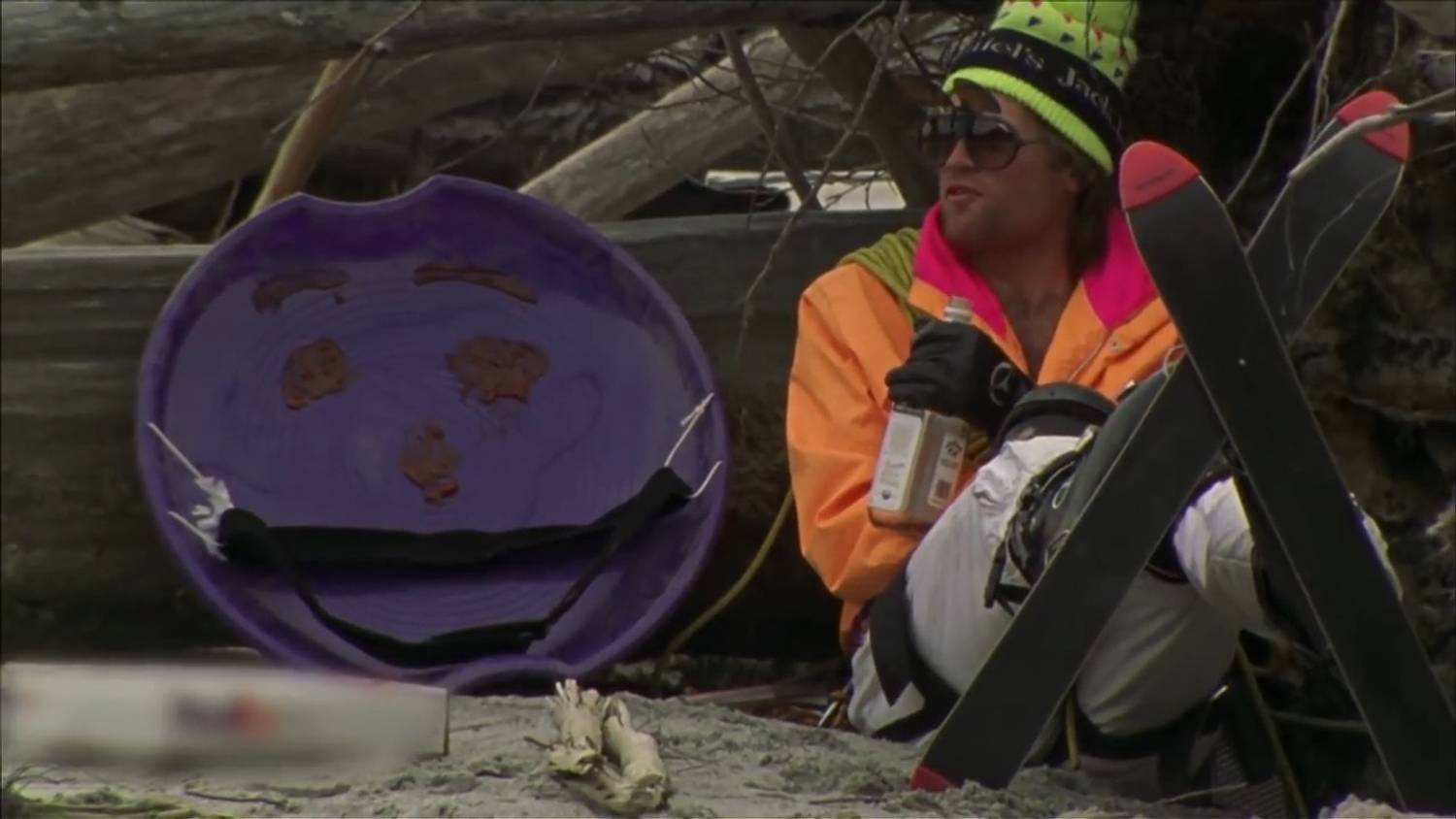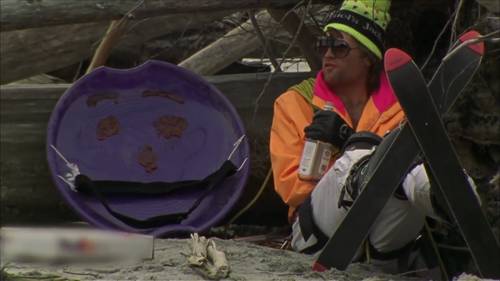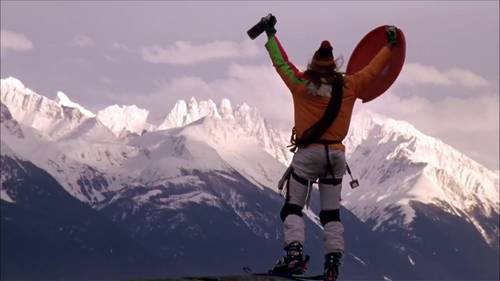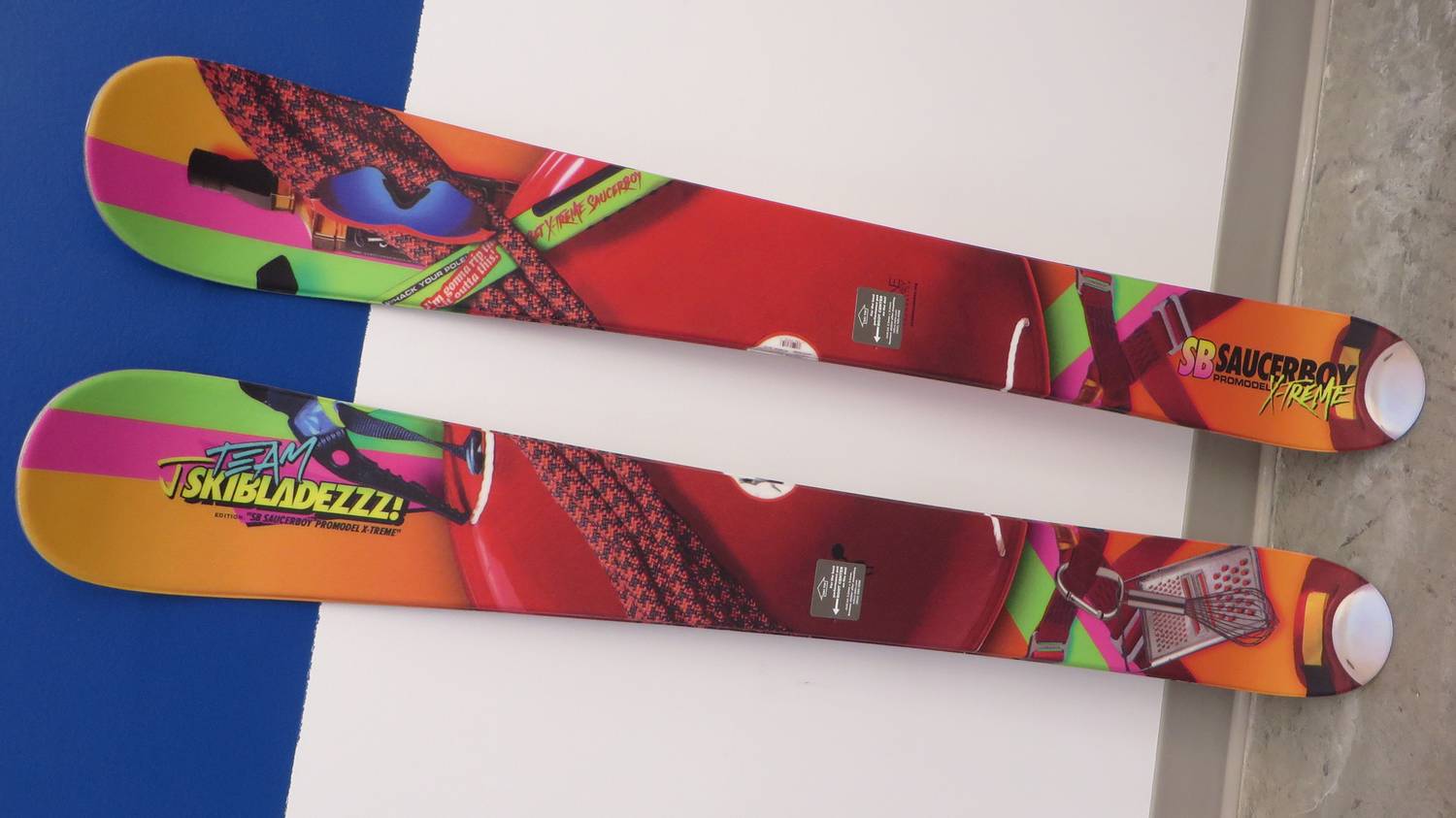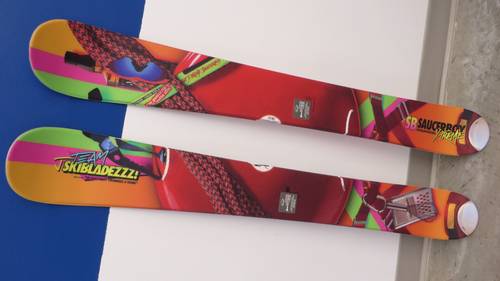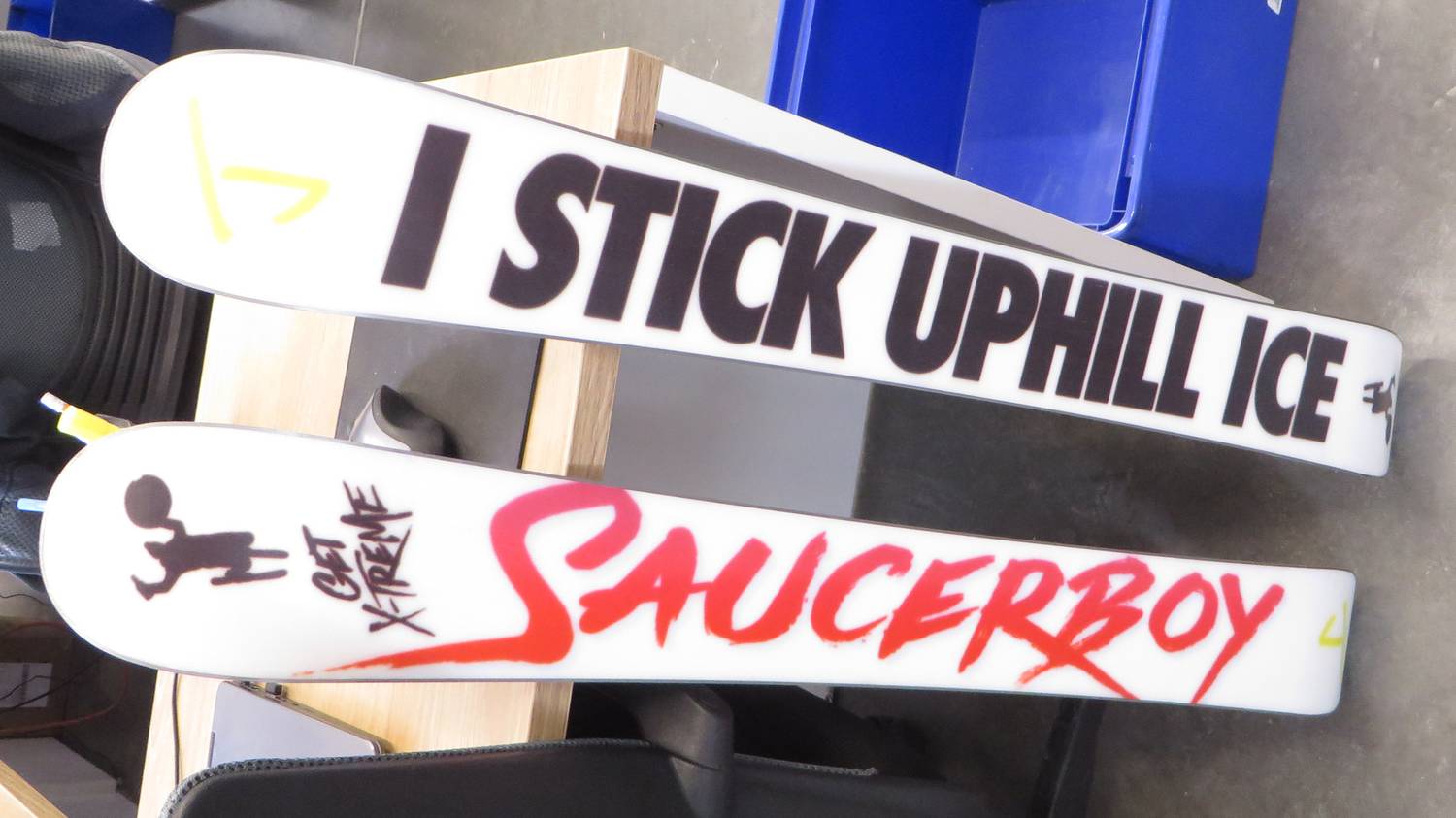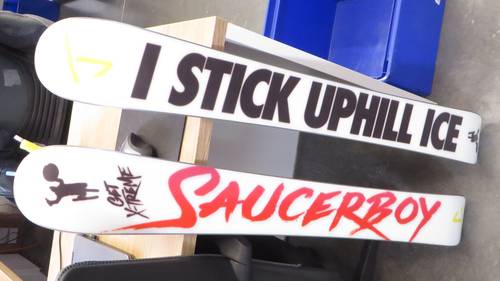 The Artwork
McConkey x J Collab
After a decade of negotiations with Saucerboy's Hollywood agents, we've agreed on a deal to bring the big mountain pro model skis he's always dreamed of to life! The king of snowlerblading has collaborated with us to create these custom graphics intended for ripping the shit outta the steep and deep, in addition to obviously sticking uphill ice!
As Saucerboy says, "There's something really cool about getting scared. I don't know what." Well, this is your chance to find out what the heck he's mumbling about? So put 'em on your feet, take a swig, wack your pole and drop in! You're guaranteed to be the best skier on the mountain… THANK YOU SAUCERBOY!!!
It's been a HUGE honor to be working with Saucerboy's wife, Sherry to bring these Skibladezzz to life. She's one of the most passionate and positive forces I know for skiing. Sherry created the Shane McConkey Foundation to carry on her husband Shane's legacy through random acts of kindness and charity, raising and giving over $600,000 to inspire others to make a difference in the world.
We're giving 100% of the profit from the sale of these Skibladezzz directly to the McConkey family in an effort to give back and thank Sherry, Shane and their daughter Ayla for everything they've given and continue to do for the good of skiing. Please refrain for using any discount codes so we can give back as much as possible!
You can also support Saucerboy's legacy to inspire positive change in the world and the life of others here and follow on Instagram and Facebook.
Team Skibladezzz!™
119 - 100 - 119
The original pro model skiboard that started it all!
They're baaaaaaack…. these Team Skibladezzz! will soon be your favorite secret weapon for doing every trick you wish you were good enough to do on your regular skis, with half the effort, while looking twice as good!!!

These pure pleasure devices are NOT like those other gimmicky toys on the market! This is the one-and-only ORIGINAL legendary Pro Model that started it all!!!! YUP! We brought back to life the winningest skiboard ever made that won the most X Games medals, and credited for pioneering the modern twin tip freestyle movement to make it one of the most sought after skibladezzz in the world. We made sure to use the exact same engineering specs and geometry, and of course built it with the highest performing materials & construction. From its high-speed sintered base, to a full length Aspen wood core, and precise factory tune, these skibladezzz are BUILT TO KICK ASS!!! Thank you everyone for your overwhelming enthusiasm and motivation to bring these legends back to life!!!


Unlike our previous skibladezzz, these do NOT come with adjustable skiblade bindings. You'll need to have standard releasable alpine bindings professionally mounted at a ski shop. There is no 4-hole insert on the bladezzz for an old school skiblade binding. 
#JTeamSkibladezzz!Ski
Team Skibladezzz! In The Wild
Share your shred by tagging #JTeamSkibladezzz!Ski on Instagram
Specs
Length
99cm
Dimensions
119-

100

-119mm
Sidecut Radius
8.5mm
Weight Per Ski
860g
Effective Edge
718mm
Camber
3mm
Rocker Height Tip / Tail
No rocker
Tip / Tail Length
134mm / 134mm
Tip / Tail Height
53 / 53mm
Boot from Center
Center mount
Boot from Tail
495mm
Team Skibladezzz! Reviews
SB Saucerboy Pro Model X-treme
McConkey x J Collab