J x NASA COLLAB TO LAUNCH VELCRO BINDINGS
Revolutionary new Velcro binding system is a first of it's kind! The new "J VelcroTek Carbon XT: Black Edition" binding system will begin shipping Aug 1st 2021. Read the press release and watch the mind blowing video below.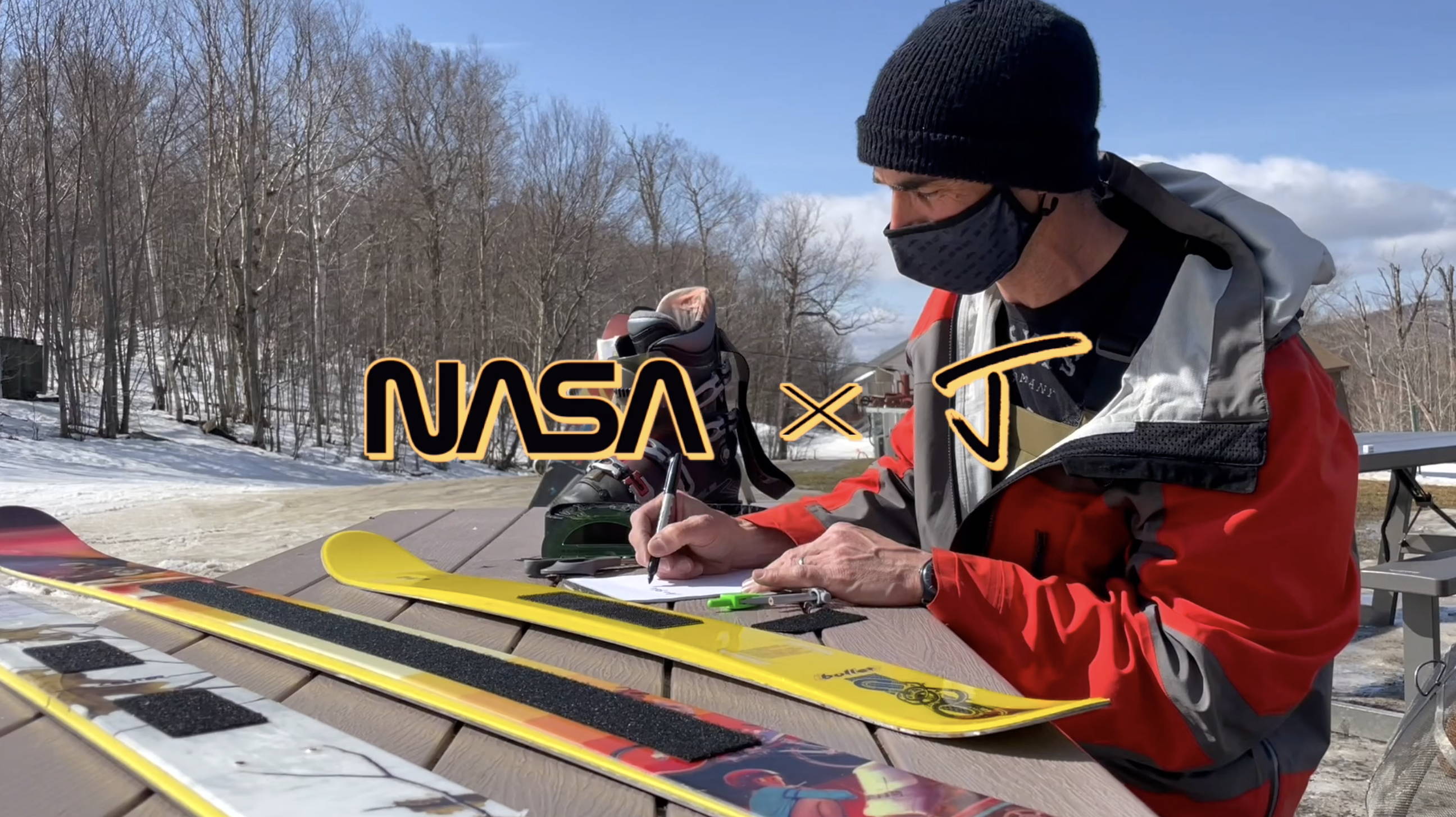 ---
[ OFFICIAL PRESS RELEASE ]

Today "J Ski Company" announced to the public details of its ongoing collaboration with NASA to develop a Velcro ski binding.
J skis owner and founder Jason Levinthal says, "This is long over due! Skiers have been asking me for decades for a universal binding system. They want to be able to mount, adjust and swap binding between skis on their own, without the need for special tools or assistance from a ski shop. They also want to change their stance location along the length of the ski on-the-fly, just like snowboarders have always enjoyed. We choose NASA as a partner because they are the inventors of Velcro so we knew they'd be the best source for a long term solution for the ski industry. Every engineer has always told me, everything made at NASA is way better than everything not made at NASA, so it just made sense!"
This is officially the first ski binding system in the world made from 100% Velcro. As everyone knows, it's impossible to break Velcro and obviously it sticks like Velcro, and is indestructible like Velcro. it's the perfect material to support the high impact and abusive forces of aggressive skiers. All of the plastic used to manufacture the Velcro are made of plastic, that are made by Algae. Unlike people that work at oil refineries, Algae are tiny living organisms that don't need to get paid to make plastic so we're going to save a lot of money in manufacturing. Also when you're done with the binding, they can simply be 100% recycled. Even though you don't currently recycle velcro, we hope you'll consider in the future. #recyclevelcro
J skis athletes have been rigorously testing this new binding system over many years and we couldn't be more excited with the quality and performance of the product. Giray Dadali says, "I love hearing that good old fashioned secure velcro ripping sound when you step in and out of the binding system. When you're in, you know it! It's also insanely light, approximately 100% lighter than any other binding I've ever ridden and the fact that I can share skis with friends now is awesome! One of my favorite features is mounting it way back on pow days, it makes it so easy to stay on top, and takes only a second to re-position my boots forward again when the pow is gone."
NASA has already started producing the first 2,000 binding systems for distribution in North America starting August 1st 2021, exclusively available at Jskis.com. J skis is also in the middle of negotiations regarding licensing this technology to other ski, binding and boot brands with their likely launch dates being winter of 2023/24. The entire ski industry is very excited by the possibility of reducing current binding system pricing by almost 100%. Customers will save a ton of money and get more for it with 1 roll of J VelcroTek able to be applied to up to 7 pair of skis for only for the incredibly low price of only $9.99. They'll also save time and money by being able to mount these bindings at home on their kitchen table with simply a scissors.
Jason summed it up perfectly, "Skiing is fun, but a lot of the products, especially bindings haven't changed in the past 40 years and that's not good for our sport. It's time to start doing something about it, and I truly believe if all brands work together, we can all benefit by improving binding performance, safety and convenience while reducing costs and complexity for everyone. We can create a much better future of skiing when working together!"
For more info about the new J VelcroTek Carbon XT Black Edition binding system, contact info@jskis.com and visit their website Jskis.com
---