The Joyride
Yardsale
Jerry of the Day x J Collab
J Says Best For: Hardpack / Fresh snow / Park / Moguls / Freestyle
Waist Width: 90mm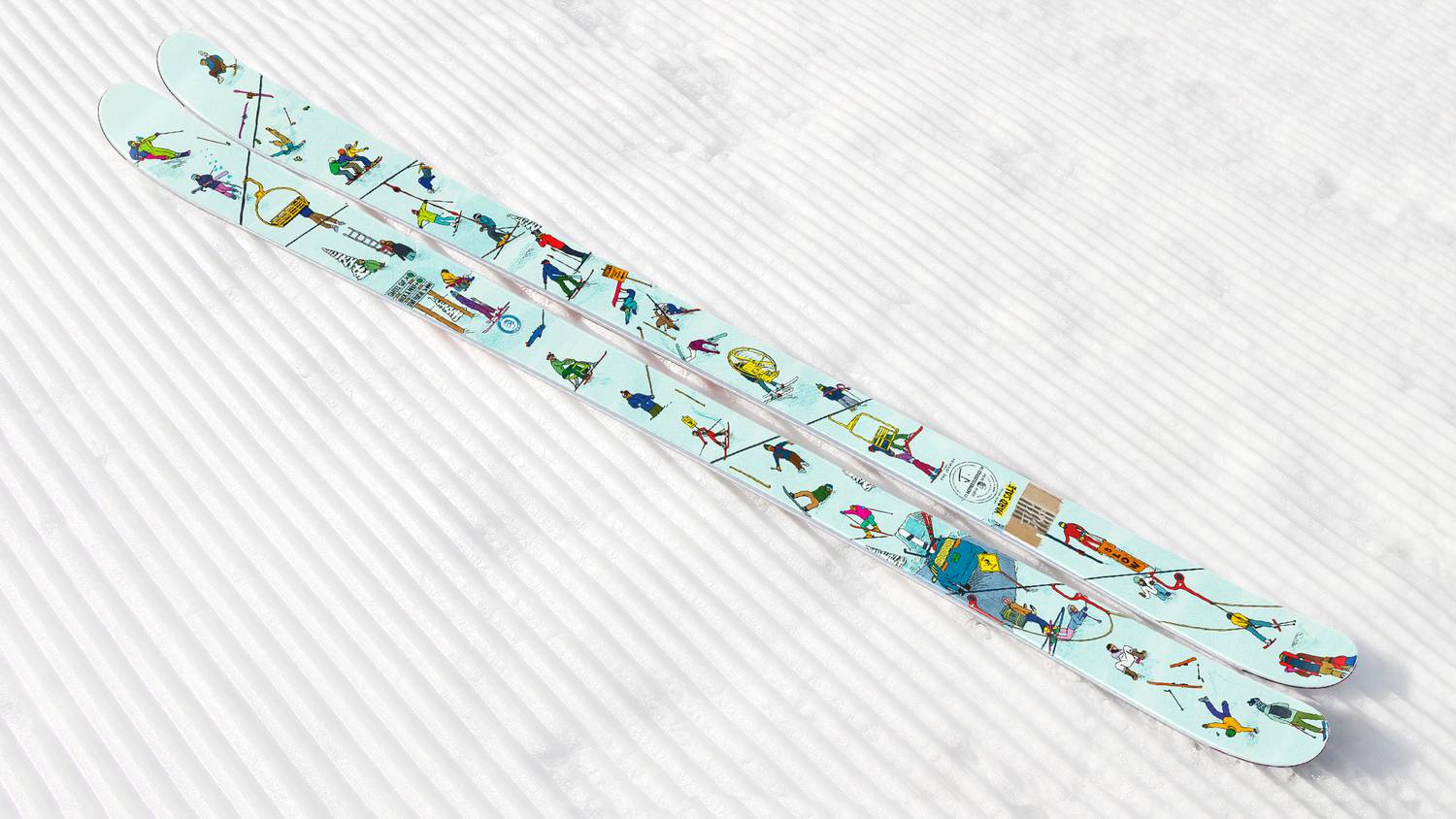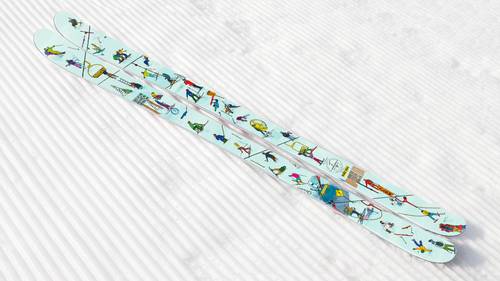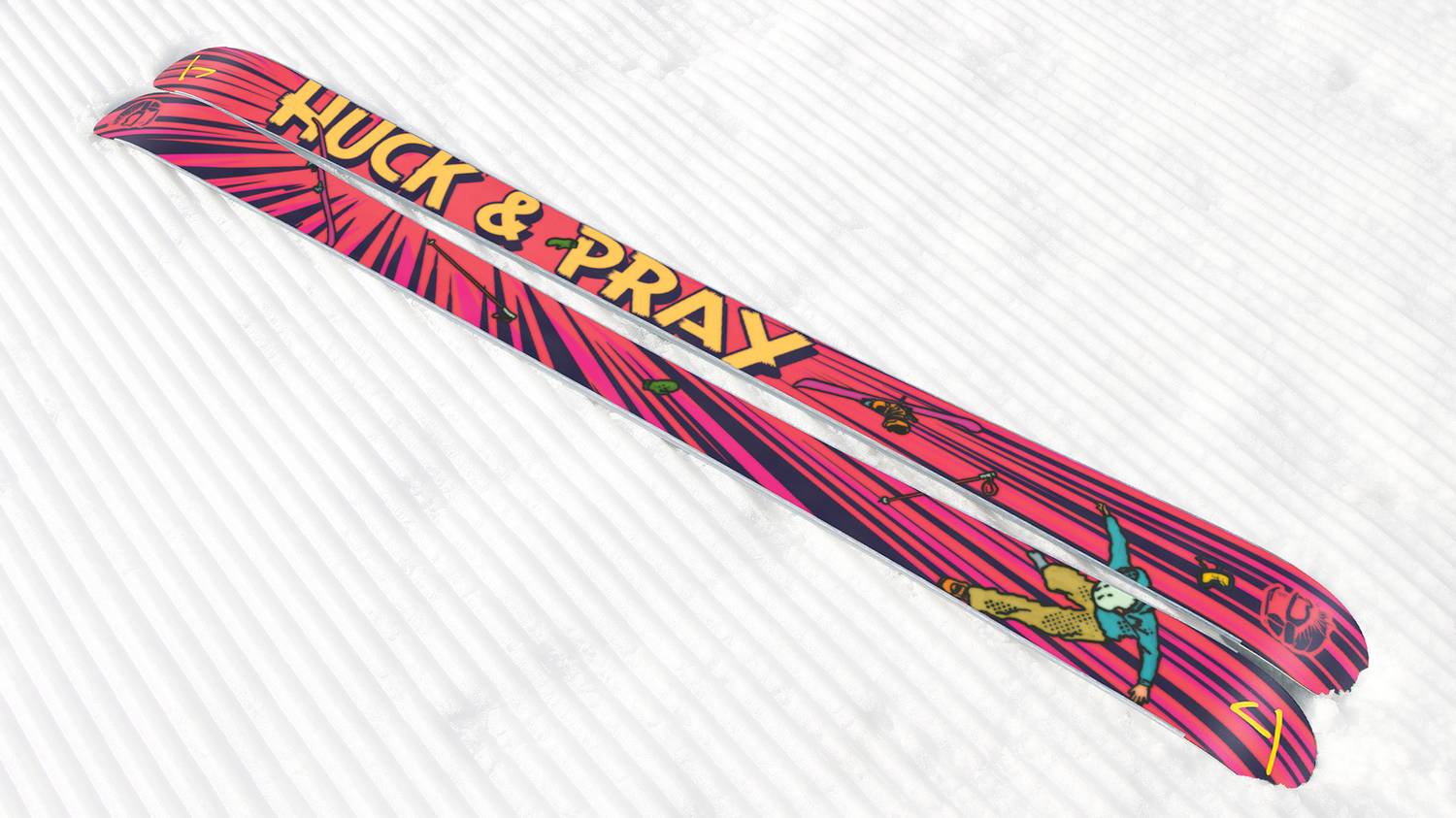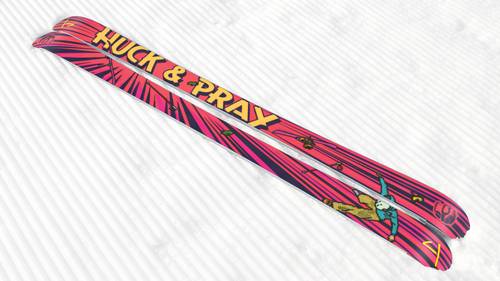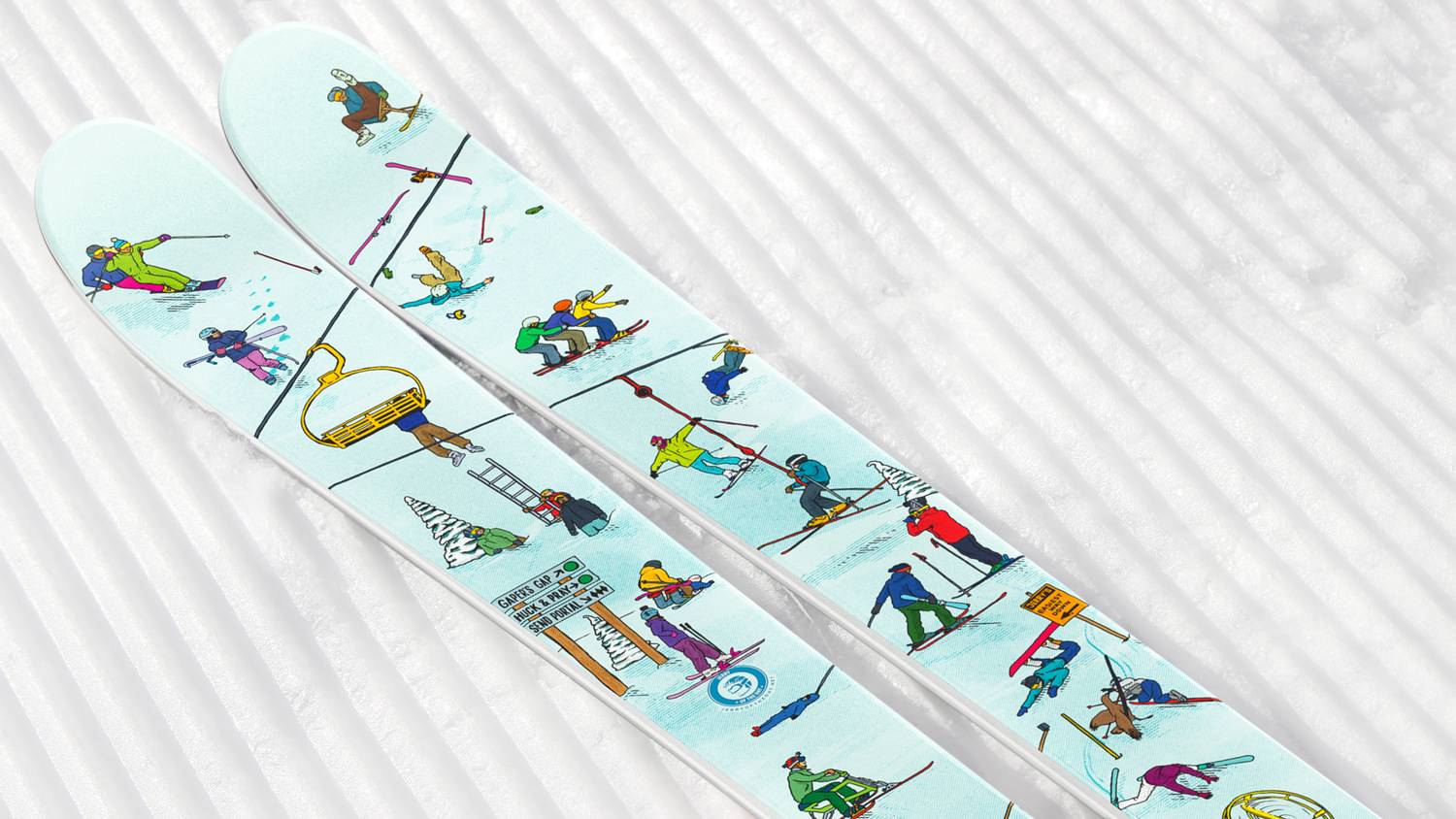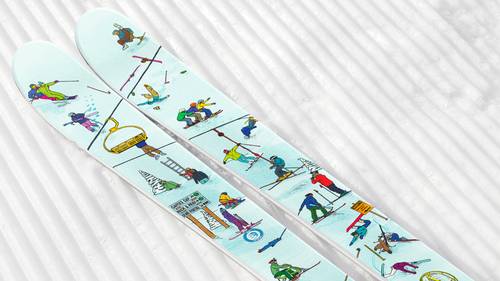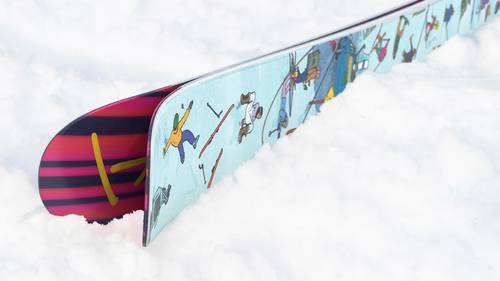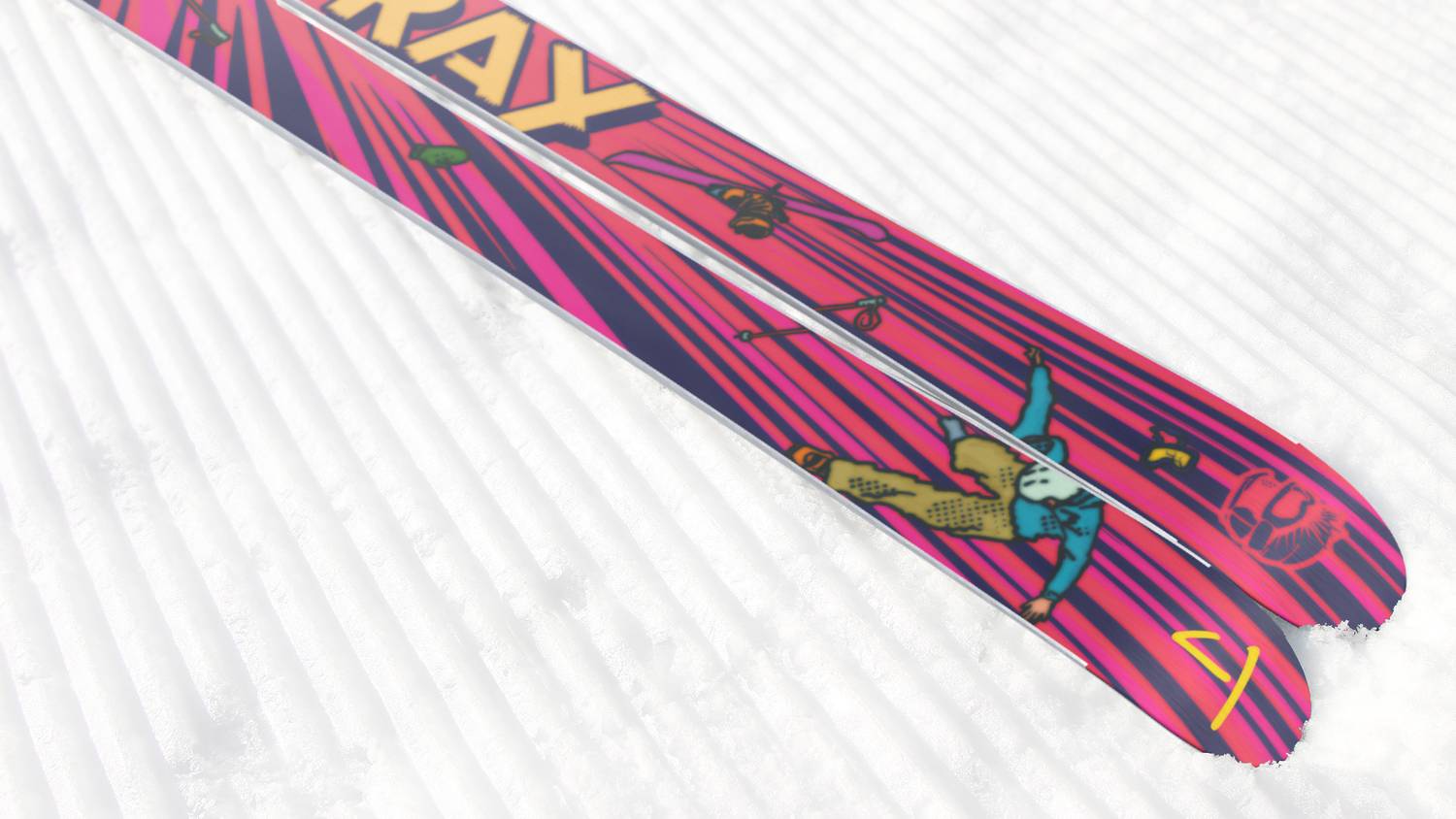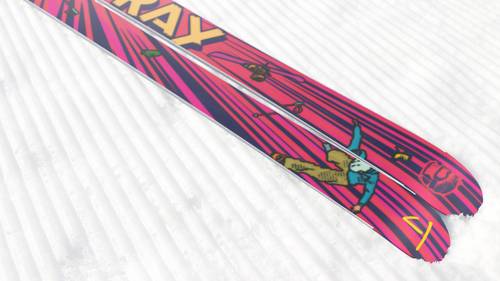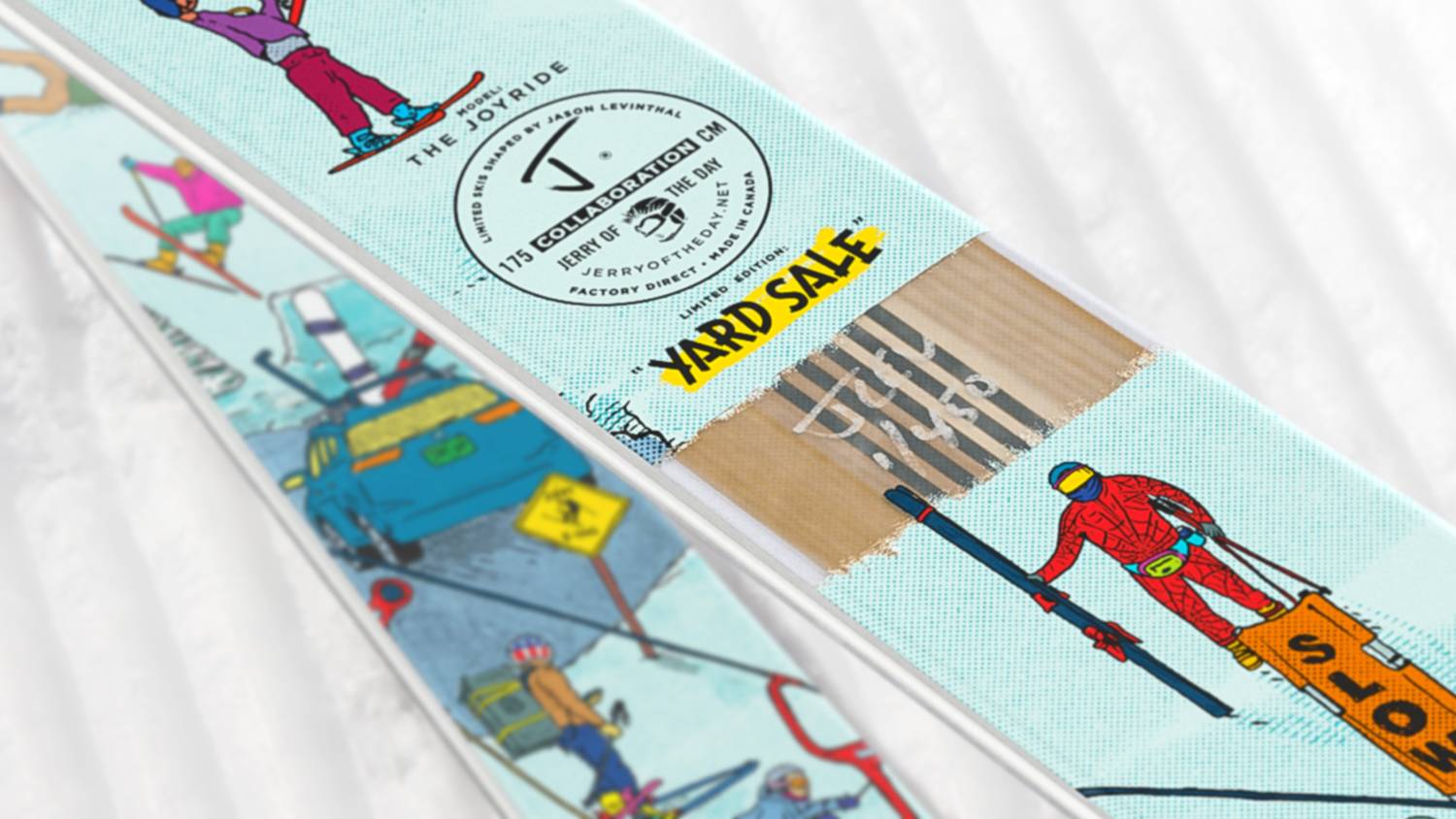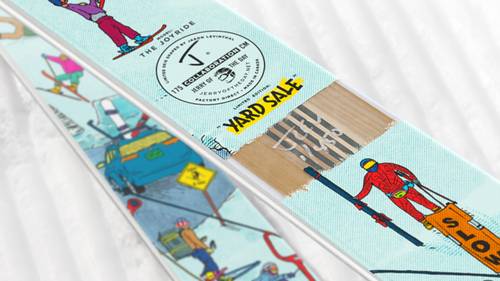 The Artwork
Jerry of the Day x J Collab
We've all seen "that skier" on the hill. The one who's oblivious to their surroundings and just can't seem to figure it out. Hell, you just might be a Jerry yourself?! Well we'd like to celebrate all the Jerrys out there rocking gaper gaps and occasionally having gear explode off of their body. Who knows, maybe riding with your skis on backwards, speakers on your back and goggles upside down while sporting a fart bag will be the next big thing? It doesn't matter how rad you get, or how many years you have under your belt - we all have a little Jerry in us just waiting to come out. So remember, when in doubt, Huck & Pray!
Oh and by the way, did you know that Jerry Of The Day was created by a local skier here in Burlington, Vermont? I met Colton Hardy years ago when he was deciding if he should quit selling photocopiers to dedicate his life to making us all laugh at ourselves. Sooooo glad he sent it!
This one's going to go quick, I'm only building 450 pairs of these Limited edition skis and hand signing and numbering each. Don't be a Jerry, grab a pair before they're gone!
Go laugh your ass off on Instagram & Facebook, and grab some some Jerry gear at jerryoftheday.net
Top sheet graphic varies slightly per size.
The Joyride™
118 - 90 - 114
The narrowest ski in our Play Collection for the most nimble and playful feel on firm snow.
At 90mm underfoot it rips quick turns, supported by a long camber and minimal rocker that grips firm snow without even trying. The Joyride's lively flex will pop you in and out of turns and have you playing all over the mountain like you're in a video game, about to get the high score! Our signature Maple wood core, full height sidewall and extra thiccc base and edge has got your back… you've never experienced durability like this before! The Joyride is also available in the largest size range we've ever offered, from 140-182cm, so kids, teens, adults and extraterrestrials can all enjoy the ride. Whether you're just getting into skiing, or on your way to the X Games, you'll be gripping, ripping, poppin, bumpin, butterin, and slayin the resort, having more fun with less effort than ever before. Enjoy the ride!
#JJoyrideSki
The Joyride In The Wild
Share your shred by tagging #JJoyrideSki on Instagram
This Ski is Kind of a Big Deal


"Buttery, yet trustworthy, with a pension for carving firm snow. Would 'swipe right' on these."
- Freeskier Magazine
"Super fun ski. Really light swingweight so I found them easy to bring around. A very joyful ride."
- Newschoolers
the finest materials
By selling these skis factory direct to you, we're able to invest more money into using the highest quality materials possible for a game-changing level of premium performance & durability.
Carbon Fiber
Lighter with more energy & pop than fiberglass
Just like fiberglass carbon needs to be fully stretched like a guitar string to give you the most pop. Unlike other brands of skis with wavy black carbon, not stretched, thus you're not getting the energy out of it, we use pre-cured, pre-stretched carbon fiber laminates. This means the carbon is pre-stretched & cured under perfect conditions at the carbon fiber production facility prior to us receiving it. This pre-cured carbon laminate is twice the cost but also gives you many more times the performance. You'll feel it!
Maple Wood Core
Highest quality wood for a lively energetic feel & long life
The factory is located in Quebec Canada, so we got Maple, eh! Maple is a very expensive high quality hard wood, thus the reason it's used to build floors and furniture in your house that lasts a lifetime. Maple absorbs impact, and has a ton of energy for a very ski feel and long life. We run 4 – 20mm wide Maple laminates the entire length of the core, plus 100% under your foot for unprecedented energy, durability & binding screw retention. At the tips of my skis you'll see more of the light colored Aspen which is incredibly lightweight with plenty strong when laminated alongside Maple for reduced swing weight at the tips.
Full Height Sidewalls
Maximum impact resistant & vibration dampening
We're using super durable, high impact absorbing Ultra High Molecular Weight (UHMW) polyethylene for our sidewalls. This is the same material we use on our ski's bases. It's very impact resistant and since it's full height, it also absorbs more vibration like using a longer spring in your car's suspension. Take a metal pipe and hit it against a rock, then do the same with a piece of plastic. The metal vibrates through to your bones & the plastic absorbs the vibration for you. That's the difference of having full height plastic shock absorbing sidewalls over your edges or not. We're cutting the sides of the sidewalls to a 10* angle, with a nice step at the bottom for easy tuning like race skis.
Extra Thick Edge
The thickest, most durable edge in the industry
We use the thickest hardened steel edges in the industry 2.2mm x 2.5mm. More metal = more durable. Whether you're accidentally hitting a rock or purposely sliding a rail, you're edges will live a much longer life. You'll also be able to re-tune many more times or file them round to slide rails longer.
High Performance Base
The fastest, thickest, most durable base material
I don't match my clothes, but I always match my base & edge. We use the thickest edge so I also use the thickest base in the industry 1.8mm. I use sintered Ultra High Molecular Weight (UHMW) Polyethylene, the highest quality base material available. It absorbs wax better, slides faster, and is more durable than any other base material. Basically it's super hard & fast, like your _______ likes it.
Rubber Laminate
Absorbs vibration and dramatically reduces risk of delam
Think of a ski's construction like a magazine, each page = layers of material in the ski. Then bend your magazine you'll see every page slide against each other, this is "shear". This shear force trys to separate, thus delaminate all the layers in your ski every time it's flexed or the tips are slapped down on a jump landing. This is why I run a layer of thin rubber around the full perimeter of the ski over the entire edge, plus the full width of across the tip and tail. The rubber acts as an insulator so that the edge and other materials can slide against each other when flexing without delaminating. This dramatically improves durability & reduces vibration.
Quasitropic Fiberglass
Fibers run in 4 directions to maximize energy & strength
Fiberglass works like a guitar string, when it is flexed it wants to spring back, that's the energy or pop you feel in a ski. However this energy can only be applied in the direction the actual fiberglass is run. This means the more directions of fiberglass, the more energy, pop & responsiveness. Industry standard "Triaxial" fiberglass runs in only three directions, we use a Quasi Isotropic fiberglass configuration, same as the aerospace industry to maximize energy & strength in as many directions as possible, 4 different axis 0, 90, +45, -45. It costs more, but it's worth the performance.
High Definition Digital Printing
You already know I put a lot of value in graphics! So instead of traditional silk screening with low resolution image quality, you've seen the dots! I'm using a state of the art, Fuji UV Flat bed printer, a $170,000 machine that enables me to print high resolution from my computer directly to the plastic top & base. The resolution is unbelievable photo-real so you'll be one of few skiers in the world with skis looking this good on your feet.
Specs
Length
140cm
150cm
160cm
167cm
175cm
182cm
Dimensions
118-

90

-114mm
118-

90

-114mm
118-

90

-114mm
118-

90

-114mm
118-

90

-114mm
118-

90

-114mm
Sidecut Radius
10.5m
11.5m
15.2m
17.2m
19.1m
21m
Weight Per Ski
1255g
1355g
1640g
1710g
1780g
1850g
Effective Edge
1110mm
1215mm
1290mm
1370mm
1445mm
1510mm
Camber
4.5mm
4.5mm
4.5mm
4.5mm
4.5mm
4.5mm
Rocker Height Tip / Tail
2 / 2mm
2 / 2mm
2.5 / 2mm
2.5 / 2mm
2.5 / 2mm
2.5 / 2mm
Tip / Tail Length
110 / 110mm
120 / 120mm
205 / 190mm
205 / 190mm
205 / 190mm
205 / 190mm
Tip / Tail Height
56 / 52mm
56 / 52mm
56 / 52mm
56 / 52mm
56 / 52mm
56 / 52mm
Boot from Center
-4cm
-4cm
-4cm
-4cm
-4cm
-4cm
Boot from Tail
655mm
710mm
770mm
805mm
835mm
870mm

Yardsale
Jerry of the Day x J Collab