The Escalator
Mansfield
Mike Hayes x Peter Cirilli x J Collab
J Says Best For: Groomers / Powder / Touring / Backcountry / Off-piste
Waist Width: 102mm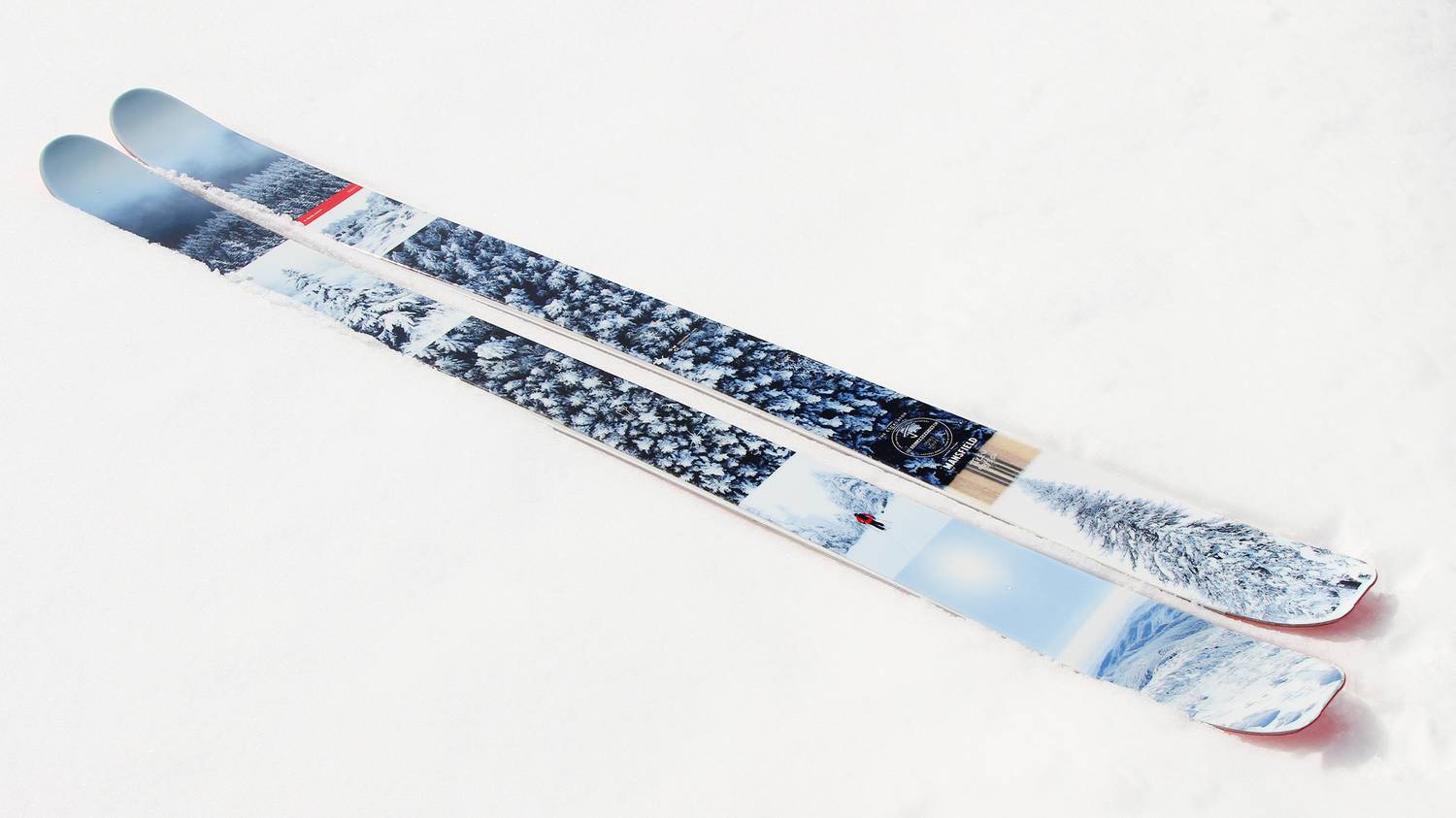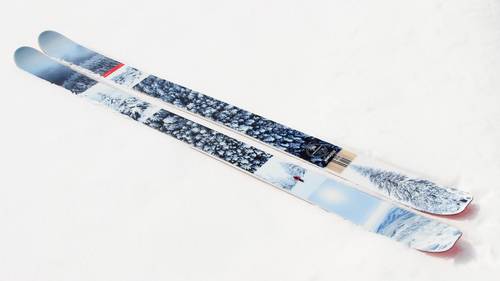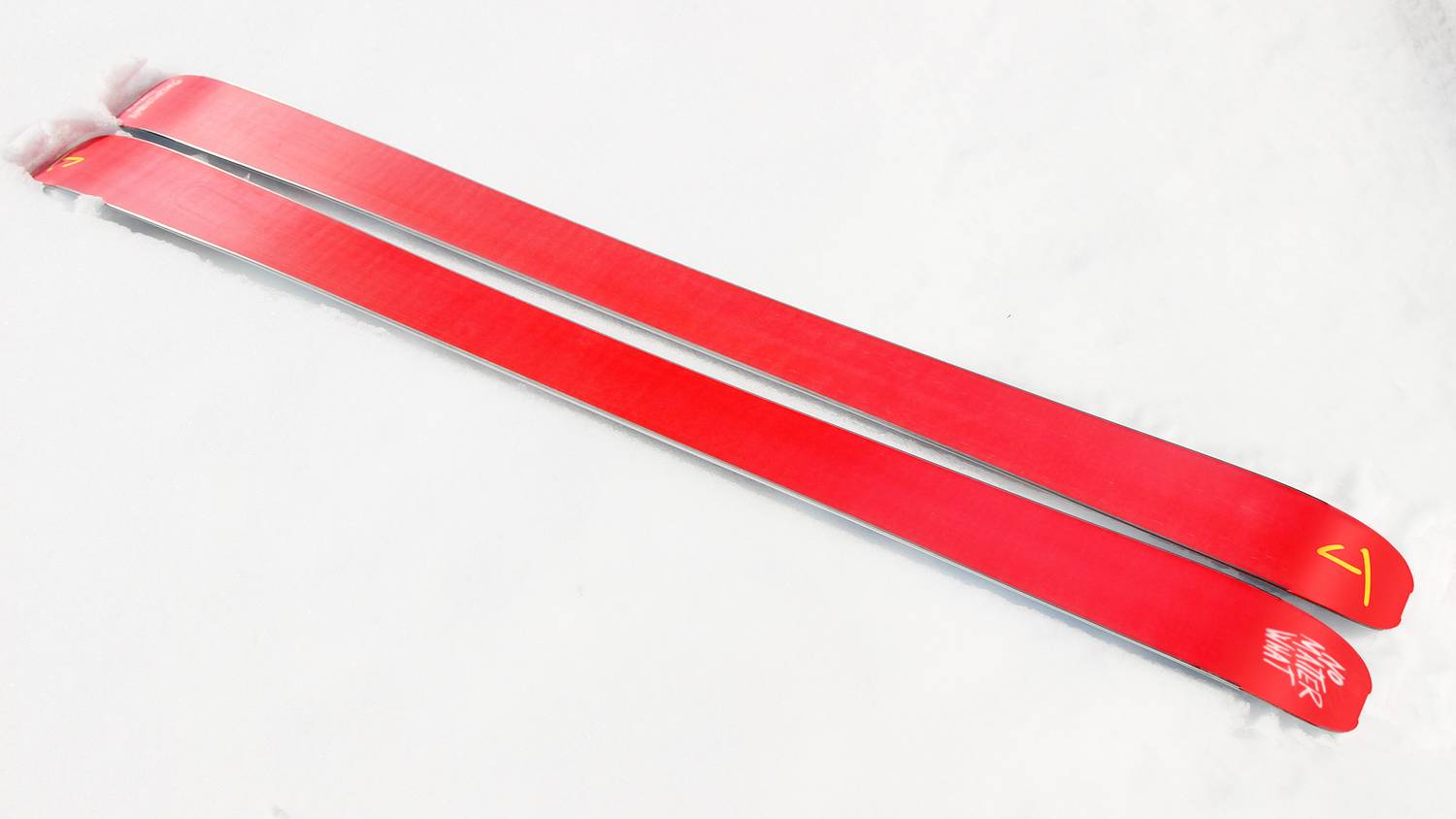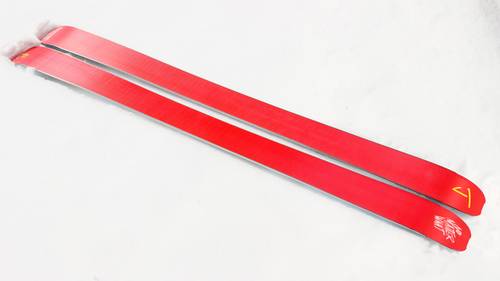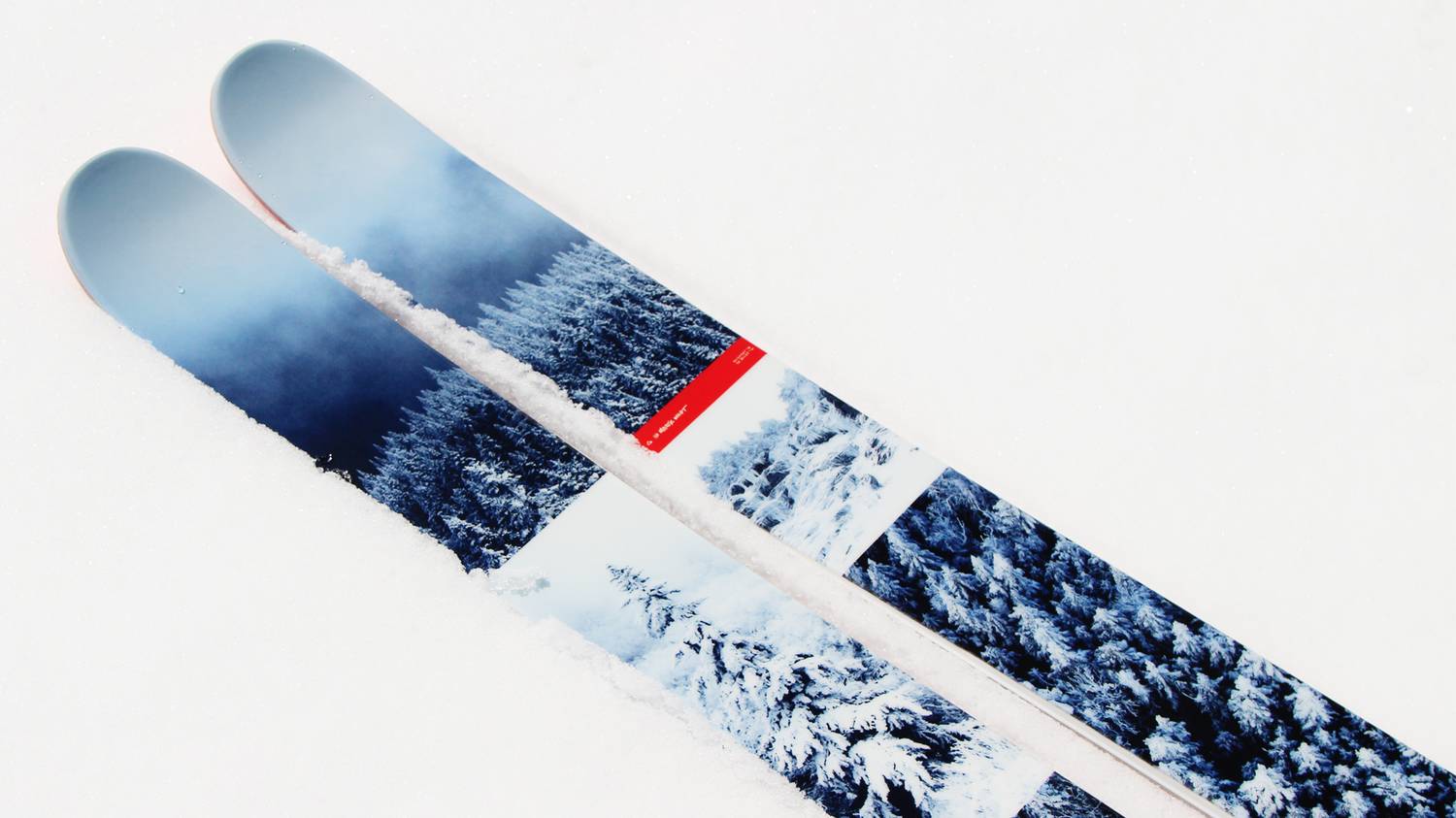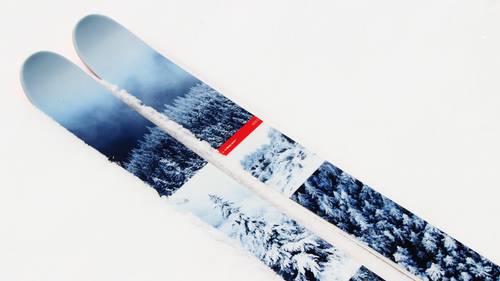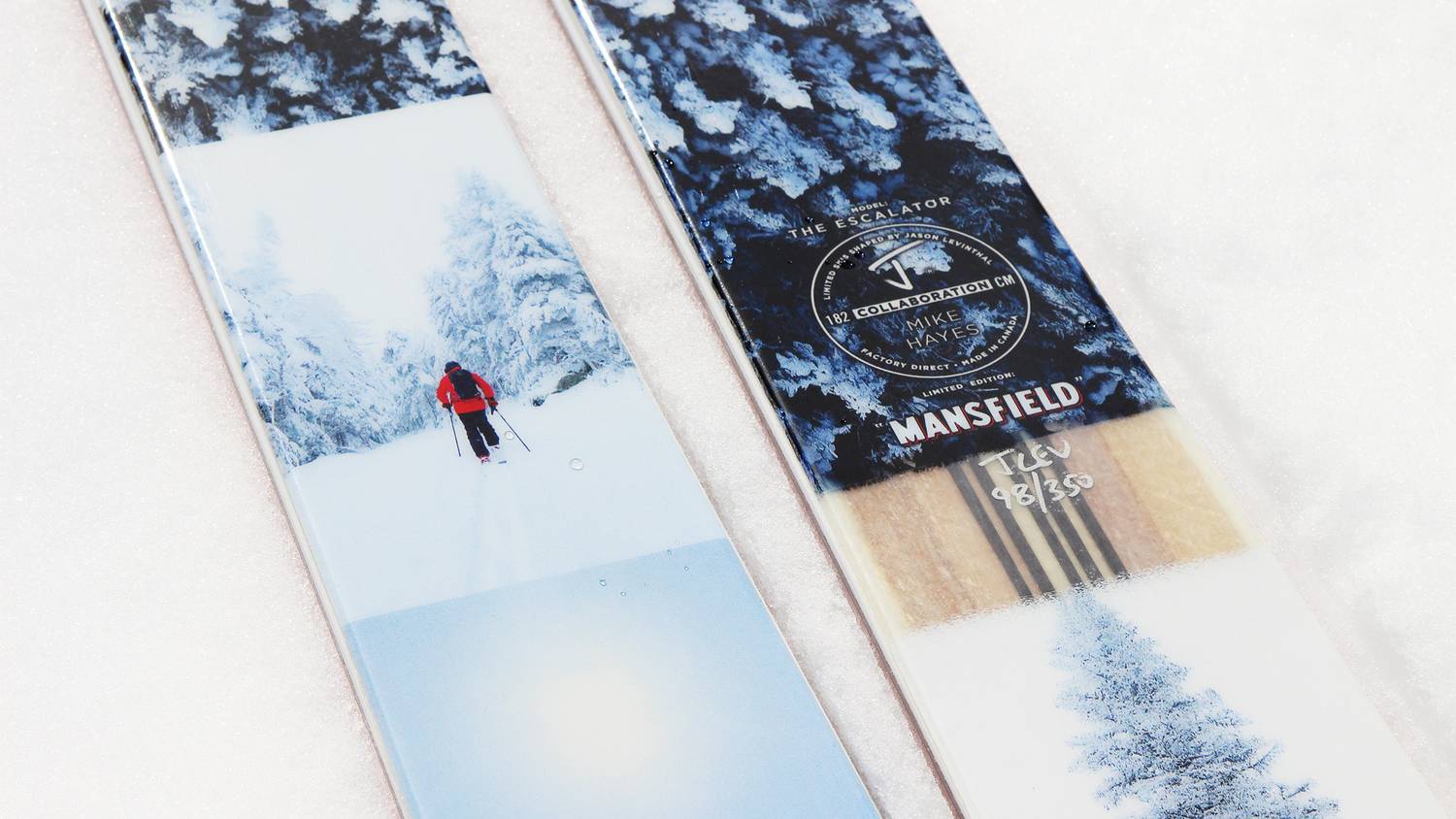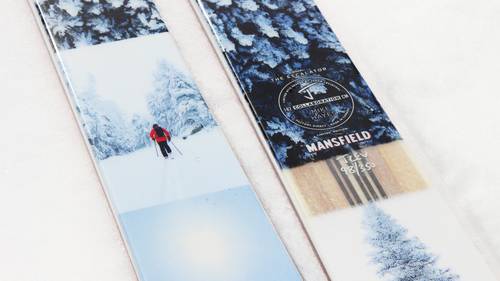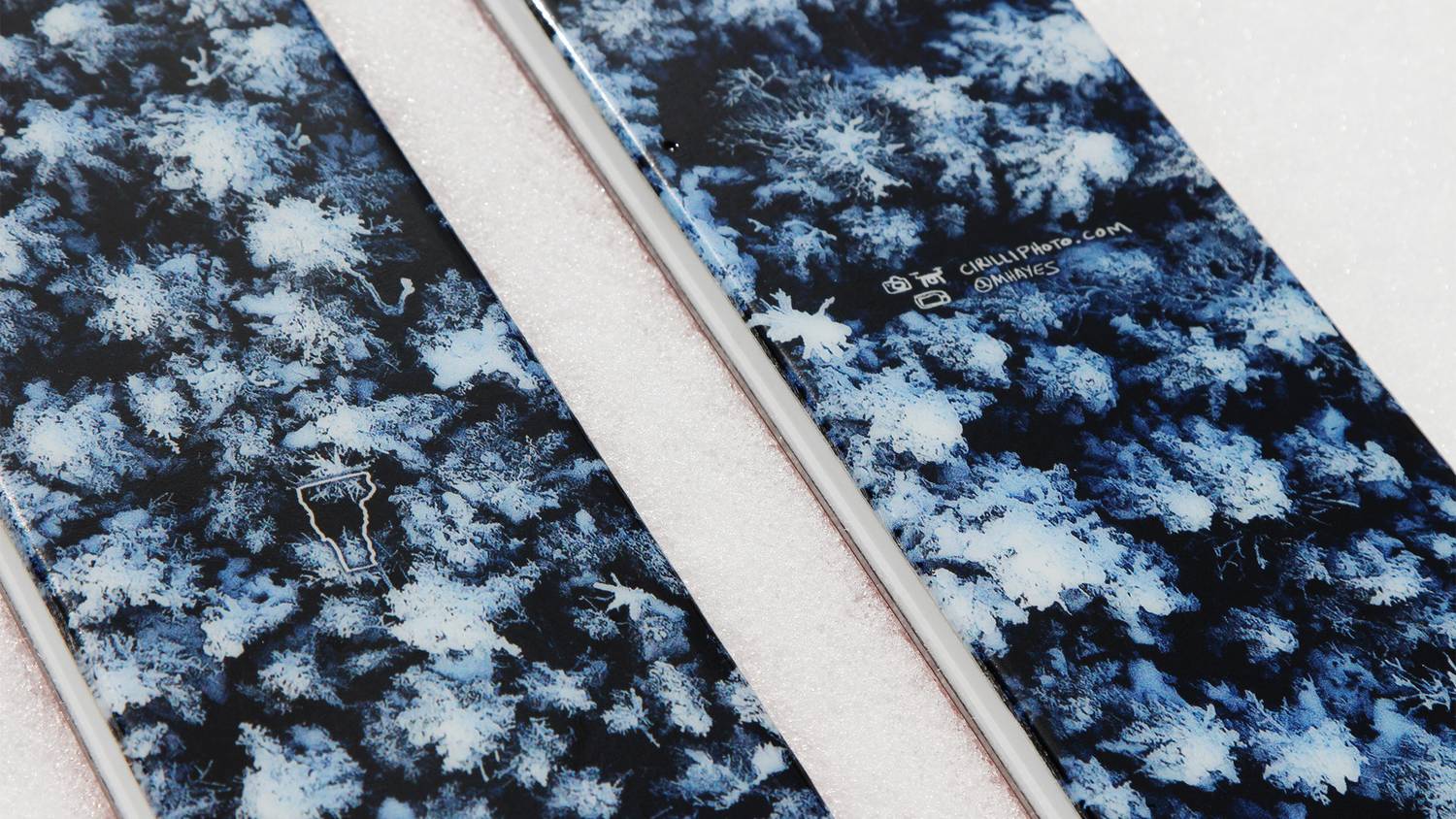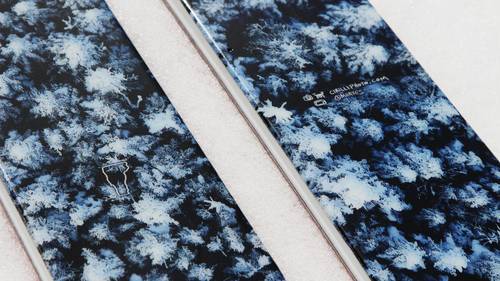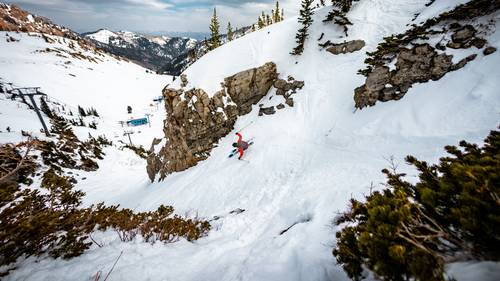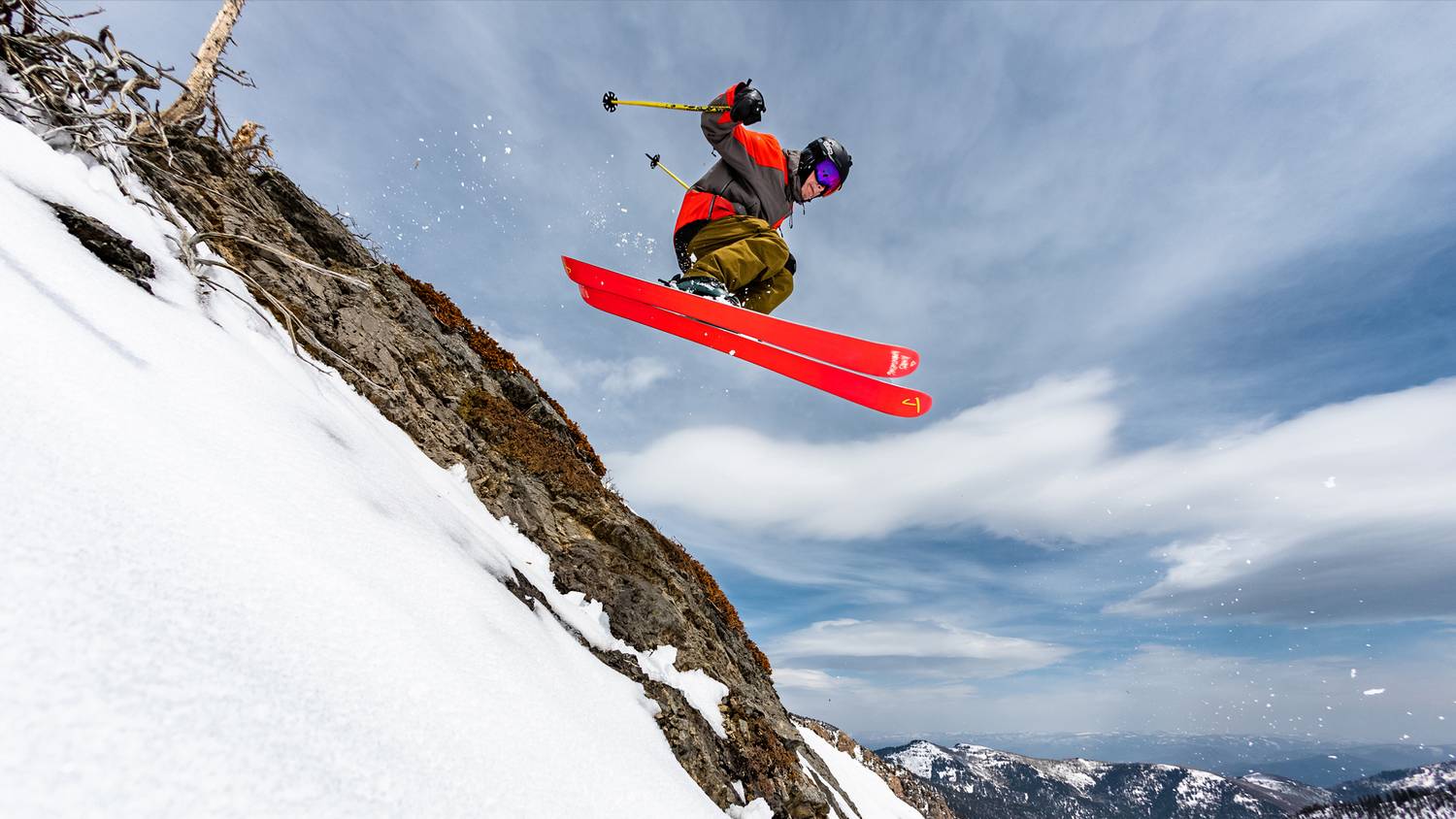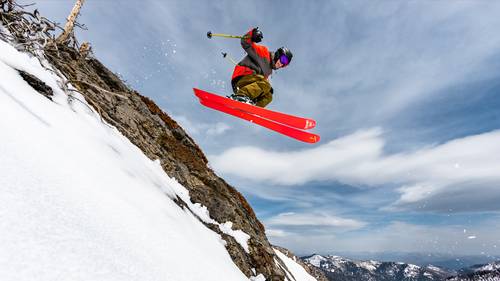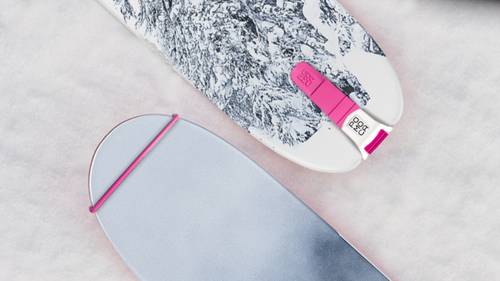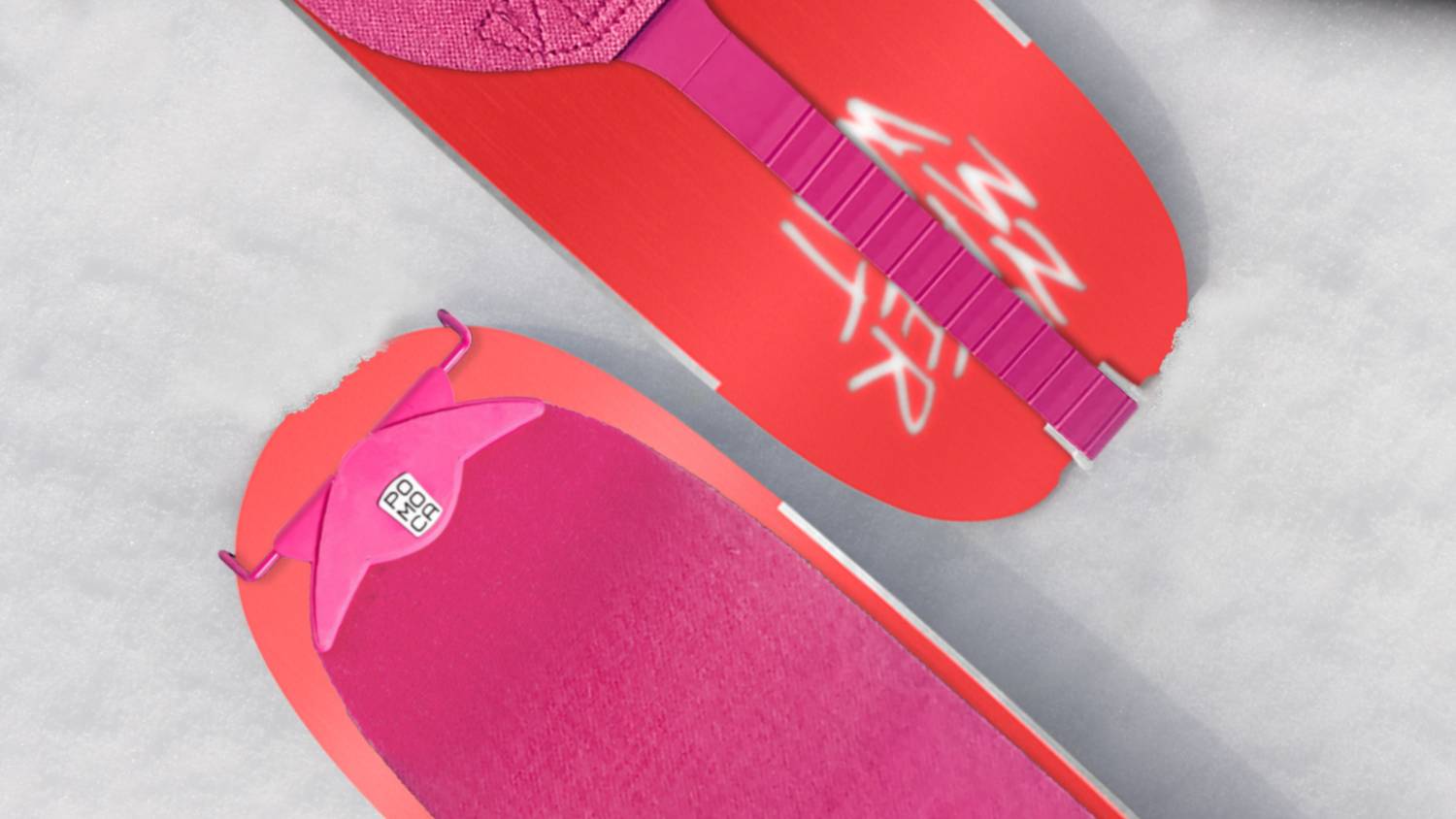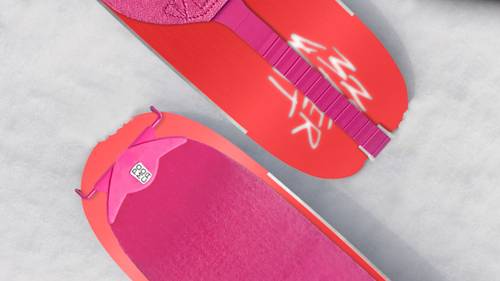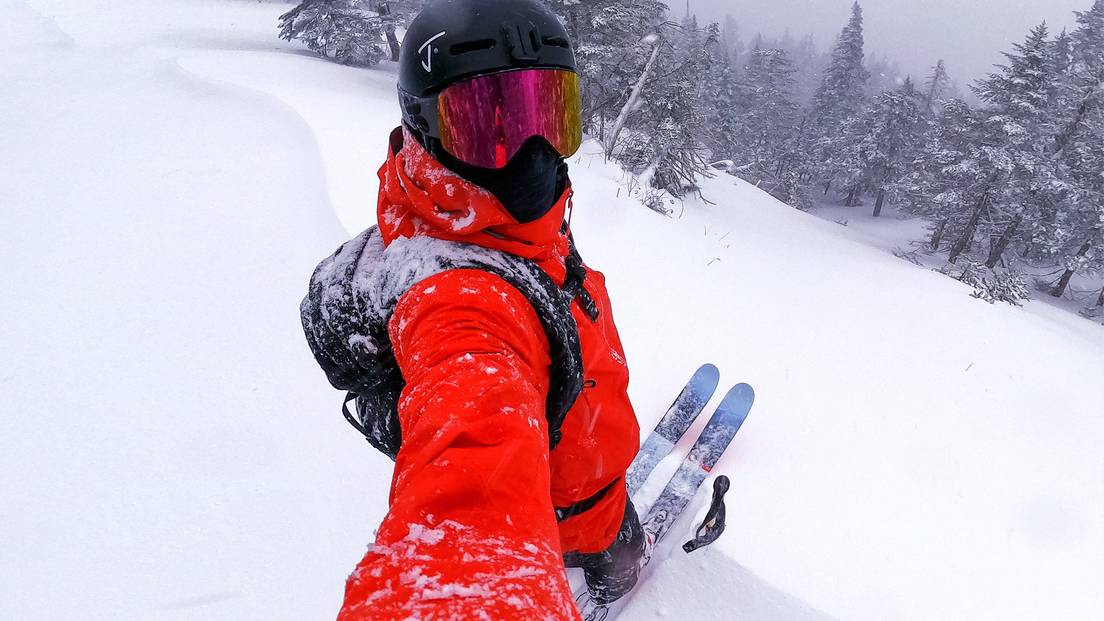 The Artwork
Mike Hayes x Peter Cirilli x J Collab
You'll never get first tracks at Stowe… because Mike Hayes already beat ya to it! He's at the top of Mount Mansfield before sunrise, but not just on pow days… wind, ice, sleet, rain, he always goes skiing as he says, "NO MATTER WHAT."
This local legend stacks over 100 days a year, walking up over 2k vertical feet to the top in a mind blowing 32 minutes (check his KOM on Strava). By the time you pull into the lot for first chair, he's already skied YOUR pow for hours! Then at 9am he switches out of his superhero costume to become the mild-mannered Global Head of Digital & Technology at Ben & Jerry's ice cream.
For Mike's graphic we reached out to our local friend Peter Cirilli, known globally for his pro snowboard photography. The top graphic is a combination of Peter and Mike's own photos of Mount Mansfield, highlighting some of the legendary tree stashes Mike skis daily. The base was only fitting to make entirely red like Mike's infamous bright red jacket. If you're at the mountain early enough you may catch a glimpse of a tiny red figure in the distance, that's Mike.
I'm only building 350 pairs of these Limited Edition skis and hand-signing and numbering each, take yourself to new heights with this soon to be classic before it sells out.
See Mike's mind blowing sunrise ice coast tree skiing on TikTok, instagram and Facebook
The Escalator™
132 - 102 - 123
The narrowest ski in our Explore Collection is our lightest and most nimble for getting up easy, with effortless maneuverability on the way down from groomers to boot deep powder.
This lightweight ski pulls double duty for dawn patrol touring and as your daily driver hot lapping the resort. The secret ingredient is a combo of a super light Aspen core paired with our classic downhill ski construction for a solid feel regardless of snow conditions. Its 102mm waist perfectly fits into every skier's quiver as a do-it-all tool that's as comfortable laying down quick, snappy carves on firm groomers as it is surfing fresh snow in tight trees or wide-open pow fields. The Escalator's ridiculously light swing weight feels like there's nothing on your feet, so your legs stay happier longer, letting you shred stronger from first chair to last call. A subtle tail notch provides reliable skin clip retention integrated into a legit twin-tip shape for badass street cred passing people on the way up… and down!
#JEscalatorSki
The Escalator In The Wild
Share your shred by tagging #JEscalatorSki on Instagram
This Ski is Kind of a Big Deal


"A bell to bell cruiser with the reliability, nimbleness and energy that I've been craving for a long time."
- Freeskier Magazine
"Takes the fun of a damp all-mountain ski and lightens it up to tour."
- Backcountry Magazine
The Finest Materials
By selling these skis factory direct to you, we're able to invest more money into using the highest quality materials possible for a game-changing level of premium performance & durability.
Xtra Lite Core
Light weight, durable wood core for the best up and down performance
Unlike our other J skis "The Escalator" features a 100% Aspen wood core for maximum weight reduction while maintaining the torsional resilience and dampening not found on other brand's "light weight" skis. Aspen dramatically reduces weight, giving the ski an incredibly nimble feel. The result is the best of both worlds, a ski that is light for easy ups and maneuverability, yet with power, stability and durability not typically found on other brand's lighter weight skis.
Lite Fiberglass
20% Lighter weight fiberglass than other J skis 

We use a slightly different configuration of our fiberglass laminates than other J skis to achieve a lighter weight while maintaining the lively responsive and solid feel our skis are known for. We use a Quasi Isotropic fiberglass configuration, same as the aerospace industry to maximize energy & strength in as many directions as possible, 4 different axis 0, 90, +45, -45. It costs more, but it's worth the performance.
Lite Edge
More durability edges without the weight
We use hardened steel edges that are 33% thinner than our other J skis for reduced weight while still maintaining strength. We reduce the thickness by 0.2mm which is actually still thicker than other brands "light weight" skis, so they are far more durable if you
 accidentally hit a rock, while maintaining a much longer life when re-tuning.
Lite Base
Faster, lighter durable base material you can count on
We use a 30% thinner base that is 0.2mm thinner than our other J models to shave weight while still providing extreme durability. This base is actually thicker than other brand's "light weight" skis to guarantee you have far more durability when charging down. In addition our sintered Ultra High Molecular Weight (UHMW) Polyethylene is actually the highest quality base material available built to absorb wax better, slide faster, and last longer. Yup! Hard, fast and lasts longer... just like your _______ likes.
Full Height Sidewalls
Maximum impact resistant & vibration dampening
We're using super durable, high impact absorbing Ultra High Molecular Weight (UHMW) polyethylene for our sidewalls. This is the same material we use on our ski's bases. It's very impact resistant and since it's full height, it also absorbs more vibration like using a longer spring in your car's suspension. Take a metal pipe and hit it against a rock, then do the same with a piece of plastic. The metal vibrates through to your bones & the plastic absorbs the vibration for you. That's the difference of having full height plastic shock absorbing sidewalls over your edges or not. We're cutting the sides of the sidewalls to a 10* angle, with a nice step at the bottom for easy tuning like race skis.
Rubber Laminate
Absorbs vibration and dramatically reduces risk of delam
Think of a ski's construction like a magazine, each page = layers of material in the ski. Then bend your magazine you'll see every page slide against each other, this is "shear". This shear force trys to separate, thus delaminate all the layers in your ski every time it's flexed or the tips are slapped down on a jump landing. This is why I run a layer of thin rubber around the full perimeter of the ski over the entire edge, plus the full width of across the tip and tail. The rubber acts as an insulator so that the edge and other materials can slide against each other when flexing without delaminating. This dramatically improves durability & reduces vibration.
High Definition Digital Printing
You already know I put a lot of value in graphics! So instead of traditional silk screening with low resolution image quality, you've seen the dots! I'm using a state of the art, Fuji UV Flat bed printer, a $170,000 machine that enables me to print high resolution from my computer directly to the plastic top & base. The resolution is unbelievable photo-real so you'll be one of few skiers in the world with skis looking this good on your feet.
Specs
Length
169cm
176cm
182cm
188cm
Dimensions
132-

102

-123mm
132-

102

-123mm
132-

102

-123mm
132-

102

-123mm
Sidecut Radius
15.8m
17.1m
18.6m
20.4m
Weight Per Ski
1640g
1720g
1,785g
1840g
Effective Edge
1295mm
1350mm
1410mm
1470mm
Camber
3.5mm
3.5mm
3.5mm
3.5mm
Rocker Height Tip / Tail
5 / 2mm
5 / 2mm
5 / 2mm
5 / 2mm
Tip / Tail Length
330 / 200mm
330 / 200mm
330 / 200mm
330 / 200mm
Tip / Tail Height
68 / 32mm
68 / 32mm
68 / 32mm
68 / 32mm
Boot from Center
-7.5cm
-7.5cm
-7.5cm
-7.5cm
Boot from Tail
775mm
807mm
835mm
863mm

Mansfield
Mike Hayes x Peter Cirilli x J Collab